A Look Inside Bernie Sanders' College For All Plan
On the surface, free college for everyone sounds like a generous policy intended to help those less fortunate. That appeal to emotions makes questioning its merits a very touchy subject.
But we still must ask the tough questions– Does free college actually benefit those in need? Does free college come with any unintended consequences? Does free college affect the quality of education? Is free college the only way to improve access to higher education?
So what's actually in Bernie Sanders' plan for free college? The basics are–
The federal government would subsidize $2 for every $1 states spend on college
To qualify for federal funding, states must meet a number of requirements– aka strings attached.
Of course everyone should have the opportunity to go to college if they have the desire and the credentials– no one is debating that. The question is how to improve access in the most efficient way possible. Opponents of Bernie's plan are simply suggesting there's a better way to go about it then just making it all free, considering his plan has many unintended consequences and improving accessibility can be accomplished in more effective ways without these risks.
Here are some of the problems with Bernie Sanders' plan for free college:
1. Bernie's Plan Does Nothing To Fix The Actual Problem
The term "expensive" is relative. The problem isn't that college is too expensive, because according to every metric and calculation, college is still worth attending from a financial standpoint. The real problem is that even though college is still "worth it", the cost to attend has risen to the point where some people who want to go, and are qualified to go, can't afford to go– that's the problem. The cost of tuition, room & board and fees at a 4-year institution rose nearly 130% between 1982 and 2013 after adjusting for inflation. But why?
"Between 1998 and 2008, America's private colleges increased spending on instruction by 22 percent while increasing spending on administration and staff support by 36 percent"
-Washington Monthly, "The Administrators Ate My Tuition"
The most obvious culprit is out of control spending. These universities are competing for a fresh wave of incoming students every year, and in order to attract those students, schools choose to spend more and more on non-academic items such as recreation centers and new buildings that have costly overhead. The only way to cover all this new overhead is to raise tuition. And schools have no problem raising tuition because they know there is an abundance of money available to students in the forms of grants, scholarships and loans. The schools know they will get paid regardless of how high tuition is and regardless of how crushing that debt is to their newly-minted graduates.
Between 1998 and 2008, spending at private universities on instructors rose by 22% while spending on administration and support staff rose by 36%. And this problem isn't only with private colleges. Between 1975 and 2008, the California State University system grew its number of full-time faculty members from 11,614 to 12,019 while the number of administrators grew from 3,800 to 12,183, which means they now employ more administrators than instructors.
The other argument for why tuitions have risen so much is because state funding for public universities were slashed dramatically during the 2008 recession, so tuitions had to rise to make up for the difference.
The numbers don't make sense here either– this implies that tuition has only been expensive since 2008, but the numbers don't support that. In-state tuition at the University of Michigan doubled in real terms between 1960 and 1980 despite state funding rising per capita throughout this period.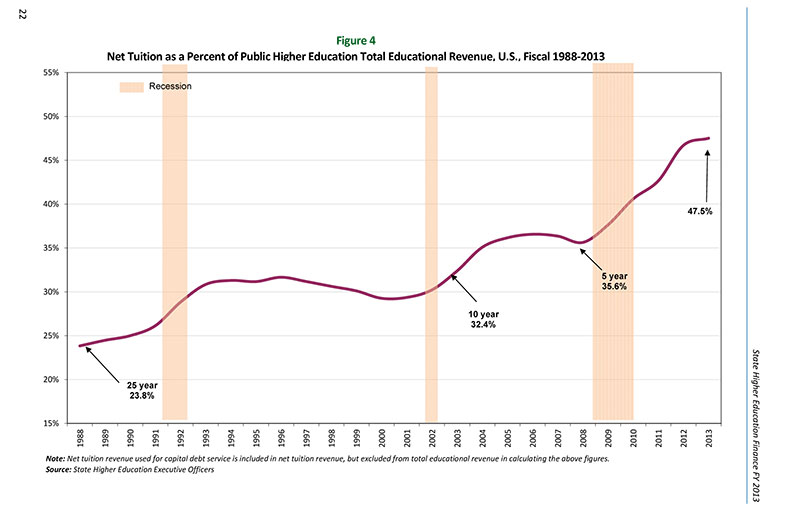 So how does Bernie Sanders' plan address the root causes of rising tuition? It doesn't. It actually makes it worse. It simply passes along the costs to the federal government while removing one of the last price controls against runaway expenses — tuition — and replacing it with federal subsidies. This encourages increased spending since from a state budgeting perspective, the more they spend the more they get.
2. This would politicize higher education
We can all agree there are problems with the operating budgets of colleges. But our elected officials in Washington DC have such a great track record of managing budgets that we should obviously extend their reach to our higher education system as well, right?
"DC is doing such a great job, we should entrust them with more"
-No one ever (Click to Tweet)
Our entire system of government is based on balance of power between institutions. When someone you support is in a position of power, you're happy. But Presidents are only guaranteed for 4 years, Congressmen and Congresswomen 2 years, and Senators 6 years. Bernie Sanders' plan gives all future Presidents — those you agree with as well as those you don't — an enormous amount of power over the higher education system. Right now, majority of decisions on higher education are handled by individual state governments. Bringing the federal government into higher education is not just injecting more politics into the higher education system, but it'll ensure instability every election cycle.
This issue of instability is compounded when you consider that colleges already have an issue with delivering quality education. According to a Gallup-Lumina poll, only 4 in 10 Americans believe colleges are transforming to better meet the needs of today's students, and only 13% strongly agree that college graduates are prepared to enter the workforce. Creating a politicized environment of instability will not help improve the quality of higher education. If anything it would probably worsen the situation.
Our country became great because political power was decentralized not only at the federal level — between executive, legislative and judiciary — but also downstream between the federal government and the states, and between the states and their local municipalities. When you empower lower levels of government to make decisions, people can experiment and figure out what works best for them. Great ideas spread while bad ones die. This is how we advance as a nation. When you consolidate power to the top like Bernie Sanders wants to do with higher education, not only do you introduce political instability, but you eliminate the historical source of innovation– innovation we desperately need to figure out solutions to our problems.
There are certainly positive reforms to be enacted to improve the cost and quality of higher education in America, but let the state governments handle that. Let the states compete for students. That's the only way to begin addressing the quality and cost issues. Bernie's plan does the exact opposite.
3. Who is this reform actually going to benefit?
Yes, we want more people to have access to higher education. But there's a big difference between making something accessible and making something free. Who would tuition-free public college really benefit?
Well it definitely wouldn't benefit people who would rather go to technical, vocational or trade school. It also wouldn't benefit people who don't want to go to school at all after college. It also wouldn't benefit the 34% of 4-year public university graduates that come from families with the means to put them through school debt-free. Bernie Sanders' plan would be spending taxpayer money on people that didn't want or didn't need it in the first place.
Bernie's plan is poorly targeted since it fails to help a significant portion of our population and spends a lot on people who didn't need help in the first place. When government spend unnecessarily, they need to tax unnecessarily.
4. The way Bernie wants to pay for his plan is flawed
What Bernie Sanders wants to do to finance his tuition-free college plan is impose a 0.50% tax on all stock transactions, 0.10% on bond transactions, and 0.005% on all derivative transactions. This structure poses a lot of problems– it favors certain financial instruments over others, it reduces liquidity in the markets, and it imposes too high of a tax burden on financial transactions.
First, let's talk about the size of this tax burden. Even Jared Bernstein, a well-known economic advisor to Joe Biden suggests that this tax is too high— he says a 0.01% on all stock, bond and derivative transactions — a level 50x smaller than what Bernie Sanders is proposing — is appropriate.
Aside from the size of the tax burden, why all the different rates? Having a smaller tax on derivatives than bonds and stocks will encourage more investments into derivatives– the exact instrument that Bernie Sanders is always up-in-arms about. When the government plays favorites with things in the tax code, things never turn out as they intended. This is the same logic as why capital gains and income should be taxed at exactly the same rate, a viewpoint held by most Democrats and even a lot of Republicans.
We have historical data with what happened in other countries when they imposed financial transaction taxes, and it's not pretty.
According to the CBO:
"Umlauf (1993) shows that Swedish stocks fell significantly in the month before the tax took effect. Hu (1998) examined numerous STT changes in Asian countries from 1975 to 1994 and found that increases in transactions costs consistently reduced daily returns. Bond, Hawkins, and Klemm (2004) estimate that the cuts in the stamp duty raised share prices, more for shares with high turnover rates. Amihud and Mendelson (1992) find similar results for high-turnover stocks relative to other stocks.
Matheson (2011) also estimates the impact of an FTT on the cost of capital, with the
effects again varying dramatically by holding period and tax rate. A 0.5 percent FTT will
raise the cost of capital by 5.0 percentage points for an asset held for just 0.1 years, 0.50
percentage points for an asset held for a year, and 0.05 percentage points for an asset held
10 years."
The CBO also built a model suggesting a 0.50% financial transaction tax would decrease stock market value by 9.3% and 14.6%. The typical response from Bernie Sanders would be, "Well, the millionaires and billionaires can afford a 14.6% decrease in their portfolios". But you know who couldn't afford that loss? People close to retirement who have money saved in their 401k. People who are saving up to buy a house. College endowment funds. State pension funds. This tax taxes indiscriminately, and a double-digit loss hurts a lot more for low and middle-income Americans.
And as Tim Worstall points out, not only would the financial transaction tax be an immediate burden on owners of capital, the long-run effects of lower asset prices and higher costs of capital would actually result in other taxes generating less revenue, such as capital gains and income taxes. When all is said and done, it's very likely that the net tax collection would be negative.
5. Alternative college tuition reforms to consider
Nothing irks me more than poking holes in a policy proposal without offering up some alternative ideas. After all, if people knew there were other ways to improve college accessibility in America, there is no way any logical person could support Bernie Sanders' plan.
Schools need more skin in the game for student outcomes
Instead of forcing students to borrow from the private markets or the government, would it be possible for schools to self-finance their students' tuition? For instance, a school could agree to lend the student money, and in return the student pays x% of their salary after graduation until the initial principal plus interest has been paid off. This would give the schools a very, very strong incentive to make sure they are preparing their graduates to excel in the workplace after graduation. If enough schools adopted this method of financing, it would put downward pressure on student loan interest rates, making sure that student are never taken advantage of by student loans again.
The status quo methods of college financing need to change. According to the Fed, schools will simply continue to raise tuition rates so long as they know students have unlimited borrowing capability. And as schools continue to spend, the associated overhead costs will be impossible to cut when the time comes.
Variable pricing for college credits
Why does it cost the same amount to attend an interpretive dance class and a mechanical engineering class? They arm students with different marketable skills. They also cost much different to staff. A great mechanical engineer professor requires a higher salary than and a great interpretive dance teacher because their salary must compete with offers they are receiving from the private sector.
Variable college credit pricing would also benefit the overall labor force. Assuming pricing for the credits was a function of the potential salary after graduation, this new pricing mechanism would also help allocate students into appropriate fields by putting market pressure on enrollment into or out of certain majors. It would also allow students to study what they are passionate about without feeling guilty about the cost or potential lack of lucrative employment opportunities.
Final Thoughts
A strong, efficient, well-run higher education system is vital for a prosperous America– we all agree on this. What we need to discuss is how to keep college costs low and quality high. Not only is Bernie Sanders' plan not the only option, it may very well do much more harm than good.
Please leave questions and comments in the comment section below. Let's keep it civil! And if you liked this article, you'll love the post on how the Paid Family Leave (FAMILY Act) would affect the US economy.

Latest posts by Stephen Steinberg
(see all)