Best Shared Office Spaces For Startups In Washington DC
Thanks to the rise of cloud software for startups, I've been able to keep the operations and overhead for Raw Athletics very lean. It even surprises some of our largest customers, suppliers and vendors when I personally answer the phones. But for a number of reasons, it eventually made sense to move the operations from my apartment and random coffee shops to a dedicated office.
Choosing WeWork made perfect sense for my own situation, but there certainly wasn't a lack of quality flexible startup office spaces to choose from– when people say Washington DC is becoming a premier startup hub, they aren't joking!
Shared office space options for startups in Washington DC
Regardless of what your budget and specific needs are, there's certainly an office in DC that will provide the perfect spot for you and your business. Here are the notable options–
WeWork
WeWork has quickly built up eight amazing locations throughout the Washington DC metro area–
[If you're interested in checking out a spot at WeWork or just want to learn more, let us know and we will try and hook you up!]
There are also locations in almost all major cities all across the country, including New York City, San Francisco, Seattle, Los Angeles, Boston, Austin and Chicago. They are even opening office internationally in London, Tel Aviv, Buenos Aires, Berlin, Hong Kong, Amsterdam, and many other cities. And as a member, you have access to them all. And the list continues to grow!
Walking into any WeWork feels like walking into the office of a well-funded, rising start-up– open concepts, modern architecture, buzzing office and highly caffeinated individuals. They're very open, transparent spaces, regardless of if you have a private office or use the shared desks. They also have nice perks such as kitchens with free coffee and beer, meditation rooms, conference rooms, game rooms, and usually rooftops and outdoor areas as well.
Need your own office? WeWork has that. Working on a budget and don't really need the privacy? Grab a membership for the shared desks in the common area, and even if you ever need a quiet space to work you can always use a cheap pair of noise-cancelling headphone (these are my favorite, or these expensive Bose one if you're feeling fancy).
Cove
Cove has quickly dominated the small, quiet, barebones office space niche in Washington DC. They are very small and usually as quiet as a library, making them ideal for solopreneurs or very small teams that simply need a quiet, reliable place to work. If you rarely use the phone and have no need for the really cool amenities at larger shared office spaces, Cove may be the spot for you.
MakeOffices (formerly UberOffices)
MakeOffices has seven office locations in the DC area, focusing on the suburbs of DC rather than in DC proper. In Virginia, they have locations in Reston Town Center, Tysons, Clarendon and Rosslyn. In Maryland they have a location in Bethesda. In DC, they have locations in Dupont Circle and Logan Circle.
All MakeOffices have amazing perks and features similar to WeWork, such as kitchens and conference rooms, but the atmosphere is much more compartmentalized and private than WeWork, which could be better or worse depending on your particular business's needs and your personal preferences.
1776
1776 is an interesting mix between shared office space and incubator. They offer virtual memberships, shared space memberships and private office memberships, but you cannot simply just sign up– you must apply and be accepted. They really tout their ability to expand your network and "access" to people, and they also have a seed fund, so I assume there's a way to leverage some startup funding out of a successful application with them as well. They are located at 1133 15th St NW, Washington, DC 20005.
Share Space DC
Between 8am and 5pm Monday through Friday, Mulebone (formerly Eatonville), an American-style restaurant two blocks away from U Street on the corner of 14th and Florida Ave, transforms into Share Space DC.
Share Space DC is completely free and has no membership fees. It's somewhere between working in a really functional coffee shop and working in a dedicated shared office space. But for free, you can't beat it.
There are a ton of benefits and features of Share Space DC:
$3 unlimited refill on coffee
Reliable WiFi
Plenty of seating and outlets
Games & other entertainment
Refreshments
Free lectures, workshops and networking events
Independent Coffee Shops
Coffee shops are arguably the central hub of entrepreneurship in America. On a typical weekday morning, you'll find entrepreneurs, journalists, students, and everyone in between at their favorite coffee shop, work spread across entire tables and typing away. Coffee shops offer a nice change-of-scenery for people who work from home, and offer nice quiet solitude for people who work at an office. Luckily, DC has just as many worthy coffee shops. Here are a few of my favorite that I frequent the most–
For more coffee shop ideas, you must follow the go-to DC coffee shop aficionado on Twitter, District of Coffee @DCoffeeSnob.
Why I ultimately chose WeWork for shared office space in Washington DC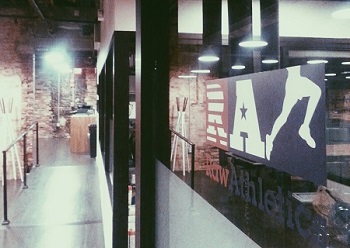 As I mentioned, WeWork Chinatown made perfect sense for my particular situation–
Private offices
Because I'm on the phone constantly, working in an open, shared desk environment simply wasn't going to work– having a private office was necessary. All of these office space options — aside from the coffee shops — do have small private rooms to make calls in, but they are about the size of phone booths and would be neither convenient nor comfortable to make hours upon hours of calls in.
Location
DC is so scenic, and for those who know me well know that I love walking everywhere. It's that reason in particular that WeWork Chinatown was so appealing to me. Great location for a nice morning walk. Plus you have the national mall and many restaurants and bars close by.
Atmosphere
Being surrounded by energetic and impressive local DC startups and business owners was an important factor in my decision to move to WeWork. When you walk into a WeWork, you can literally feel the hustle and it is very contagious. The people you'll meet at WeWork is worth the cost alone.
Flexibility to scale up
There's plenty of room to scale up. Most WeWorks have private office that can fit up to 8 people, and the month-to-month contracts with no commitment would make any transition very fluid.
Did I miss any spots? Any other recommendations or suggestions are welcome in the comments!
If you're interested in checking out a spot at WeWork or just want to learn more, let us know and we will try and hook you up!

Latest posts by Stephen Steinberg
(see all)