Premium Magazine Blog WordPress Themes We Recommend
Having a great-looking blog can be the difference between having a small readership and having a massive loyal following. Like it or not, people judge websites based on looks. But not only that, well-made themes also help you from a business standpoint by loading faster and getting ranked higher in Google.
Buying a quality WordPress theme is a great way to set your website up for success, but we also have some free magazine theme recommendations as well. Paid themes are even better than custom themes because premium themes have support systems to turn to when you have questions, and most of the bugs have already been worked out. This is absolutely not the case with custom-made themes, which can end up costing way more in the long-run and still usually result in worse outcomes.
Even though you're paying for a premium theme, there's always a few things to look for to ensure it's a good fit:
Speed. Websites that load fast have lower bounce rates and also rank higher in Google
Responsive. Websites that are mobile-friendly rank higher in Google and are also better for your mobile visitors, of which you will have plenty
Theme files do not need to be touched. WordPress is constantly updating their code, and therefore all well-kept themes are constantly updating their code as well. If you make changes to your theme files directly, you will lose them all when updates are made. There are plugins to get around this issue, but it's easier and simpler to find a theme with easy customization options
Here's our list of premium WordPress magazine-style themes that we recommend:
1. Extra by ElegantThemes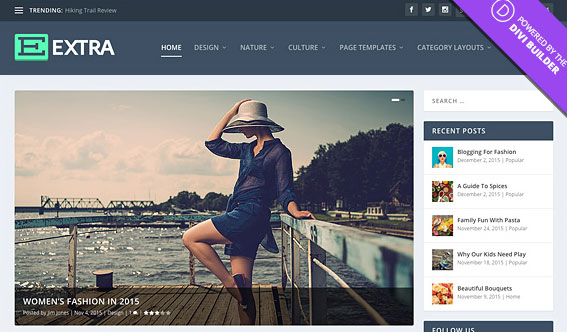 Get Extra
ElegantThemes is known for their quality, highly customizable themes. Extra is no exception. It's a very standard magazine design, nothing fancy. It's not going to wow people, but it's going to work, be well-maintained and updated frequently.
2. Milan by StudioPress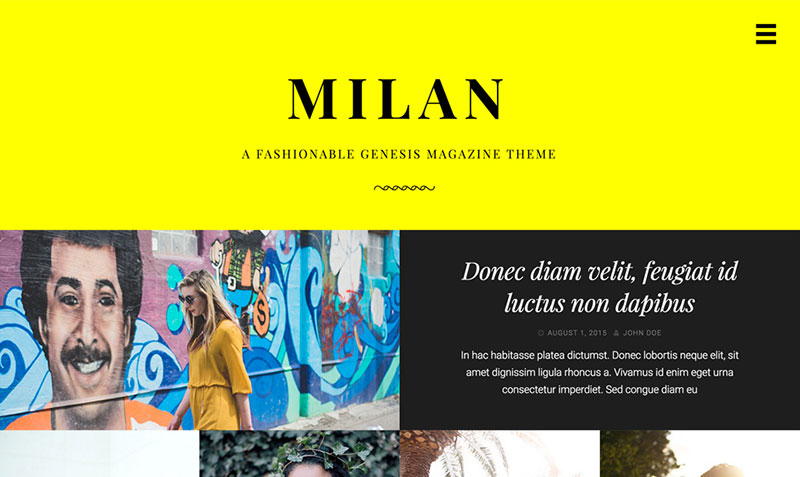 Get Milan
StudioPress is known for their amazing themes built on top of the Genesis framework, so you know they have clean code and load fast. Milan is one of our favorite new-age magazine themes because it's not a cookie-cutter magazine template but still allows for easy browsing. Many fast-growing publishers are transitioning towards themes such as Milan, so you should consider doing the same.
3. Problogg by Dessign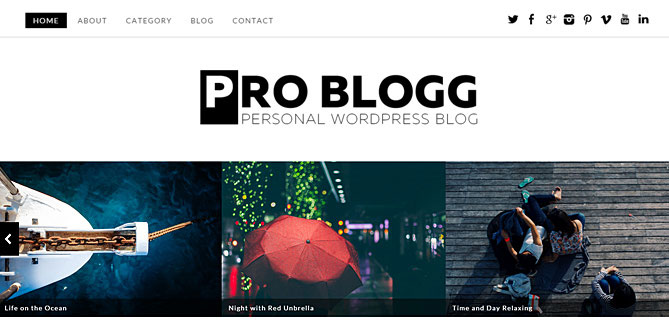 Get Problogg
Problogg is a amazingly simple yet elegant theme from Dessign. It gets the job done of acting like an online magazine theme — easy to navigate, clean, side bar — but it does so in a cleaner, more professional manner. Another great design from the team at Dessign.
4. SociallyViral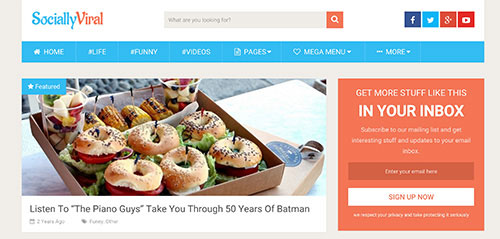 Get SociallyViral
This theme is self-explanatory– it's built for websites meant to go viral on social media. Therefore it comes with bright colors and tons of space for marketing and advertising right out of the box. But unlike other themes meant for this niche of websites, it looks very clean and very professional. If you're looking to crank out a ton of content on a fun website, this is your theme.
5. Ciola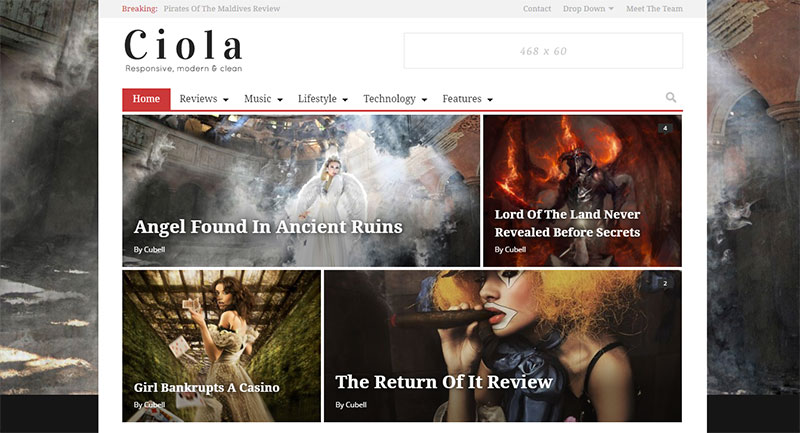 Get Ciola
While the homepage layout is rather normal, the best part of the Ciola theme is the design of the post pages, which is arguably the most important page on a website. The stylish and modern header smoothly transitions into clean white space for the copy. A unique theme without being too crazy.
6. Braxton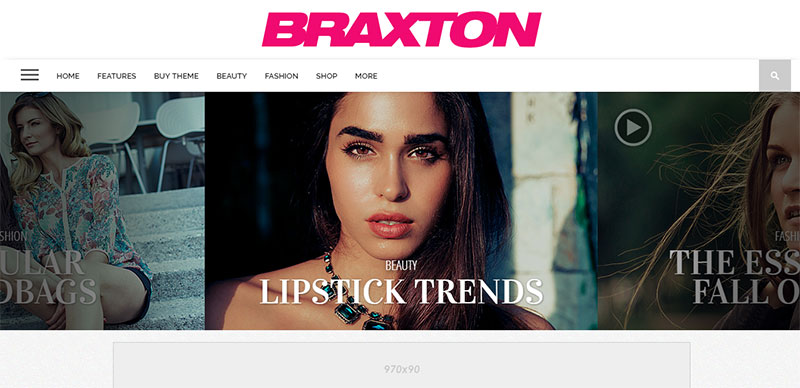 Get Braxton
Braxton is a very sleek magazine-style WordPress theme, however it doesn't look like a cookie cutter template. The demo design makes it look like a gossip magazine template — which it would obviously work well for — but if you can see beyond the color scheme, it's very versatile.
7. NewsMag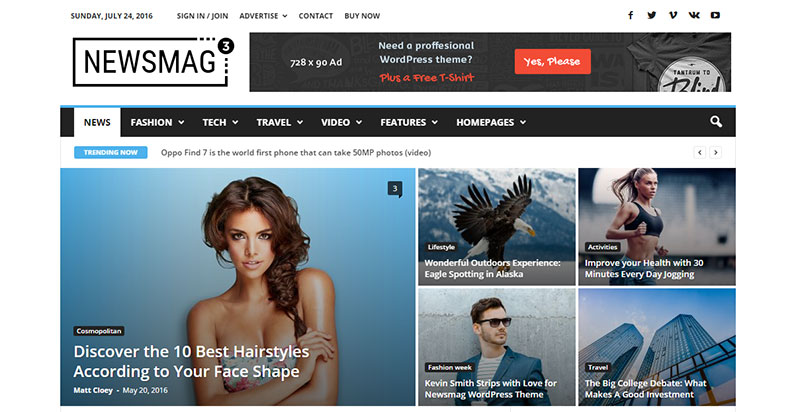 Get NewsMag
At first glance, NewsMag may look like any other standard magazine WordPress theme, but as you browse the demo, you can see that it pays close attention to the small details that will allow you to portray a professional image to your readers. On top of that, it loads fast and comes with a number of different preset layouts and styles to choose from.
8. DW Argo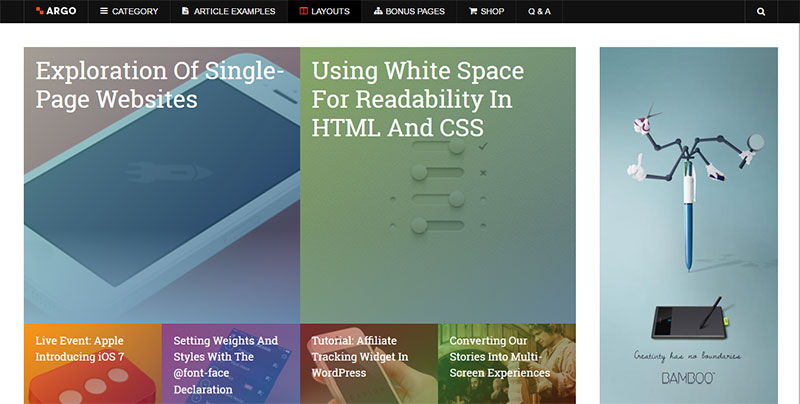 Get DW Argo
DW Argo is built for a large online publication, but it's not built like a normal magazine template. It has a very unique layout ideal for showcasing multiple articles from one page to keep your bounce rate low. Not many themes can successfully pull off a three-column layout, but DW Argo definitely does it well.
9. NewsTube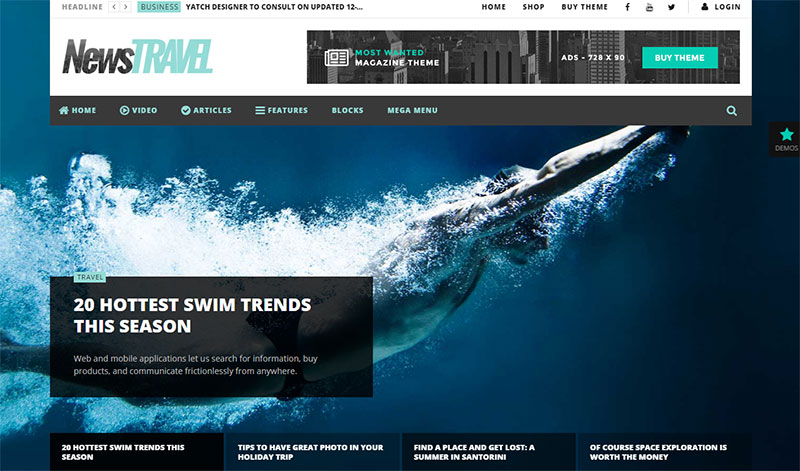 Get NewsTube
NewsTube is a very versatile magazine theme. Where NewsTube shines is it's modern header as well as the attention to detail on the post pages. From the many styles available, you'll certainly find something that exactly matches your needs.
10. Master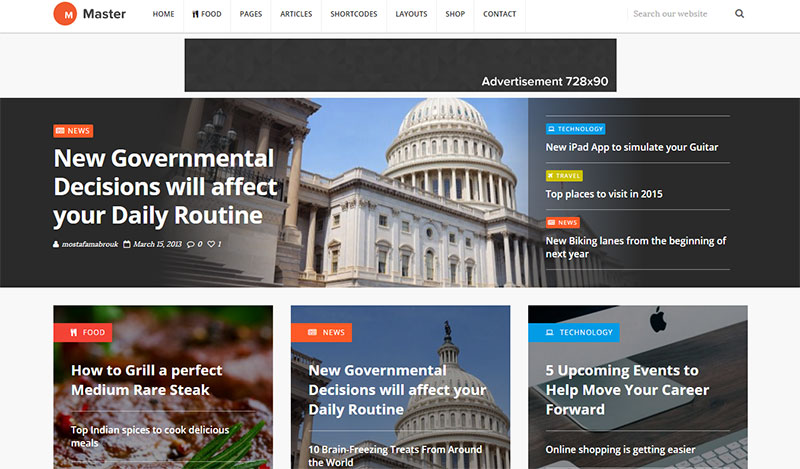 Get Master
Master is another magazine WordPress theme that has a unique yet readable layout. It also comes with a number of preset variations, so you'll certainly find something that fits your specific needs.

Stephen is the Founder of
Raw Athletics
, the company behind
Vapor Fresh
, a line of stronger, safer cleaning products for the sports & fitness industry. He can make a mean breakfast, attempts to be a decent golfer and is a diehard fan of the United States of America.

Latest posts by Stephen Steinberg (see all)